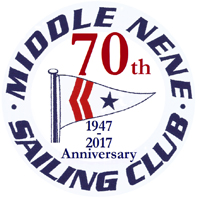 GENERAL INFORMATION FOR NEW MEMBERS





MNSC - MIDDLE NENE SAILING CLUB
Welcome to Middle Nene Sailing Club! I am delighted you have joined us and welcome you to the Middle Nene "family". As a member I hope you will enjoy many happy and fulfilling years.
The club is very well equipped for the dinghy sailor, with laid out berthing for more than 200 dinghies and moorings in the form of a "marina". Classes sailed are: Optimist, Topper, Mirror, 420, RS 200s, Laser, GP14, National 12, Solo, Enterprise, "Classic" and "Silver" Flying Fifteen, Illusion, and a restricted number of Menagerie sailboards. A full sailing programme is organised by the Sailing and Training Committees. Races, staffed by members on a rota basis, are run from mid - March to the end of December on Sundays (allcomer and class) and from late April through to the autumn on Thursday evenings (allcomer) and Saturday afternoons (allcomer). For those wishing to learn to sail, improve their sailing or start to race the Training Committee organises structured courses for adults and juniors. A Youth squad is also encouraged to introduce juniors to broader aspects of sailing with competitions against other sailing clubs organised via the Anglian Water Series events. The club hosts a number of "Open" events for some of our adopted classes and together with a number of pursuit and special races this provides a varied programme throughout the year.

Our changing rooms are well equipped, and hot showers and lockers are provided. The lake provides us with an almost unique feature of a constant water level, and thereby, the great advantage of being able to board or disembark from fixed staging's without getting wet feet! Slip-ways are provided and a "beach" is also available for launching.
Middle Nene members are allowed to sail at anytime, between 1st March and the end of December, provided necessary safety precautions are taken. Safety is a high priority at Middle Nene, consequently we have our own RYA qualified Power Boat instructors. New and existing members are encouraged to become proficient in the safe use of the club's rescue craft by attending one of the courses run throughout the season.
The House Committee provides an excellent and varied social programme with entertainment to suit most tastes. The club has its own licensed bar which is open during programmed sailing days, and organised social evenings. The Refreshment bar is open during the season serving hot and cold meals on Sundays and snacks on Saturdays. Members may also use the galley facilities if it is not manned. Camping and caravanning in the top paddock is allowed on specific social events nights and during extended sailing programmes, and at other times by arrangement.

Angling members may fish the river or lake from our surrounding land and social members may enjoy all our land based facilities and events on offer. The club has several picturesque walks and a bird sanctuary within its environs.

As members of the Middle Nene "family" you are encouraged to be involved in the club to whatever level you can. The day to day running of the club and the facilities available to members, have been provided by and are fully maintained by volunteers, sourced entirely from within our membership.
MNSC – HISTORY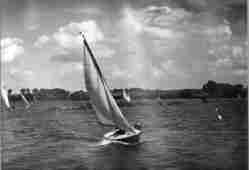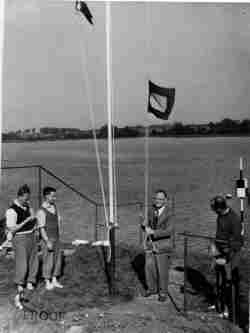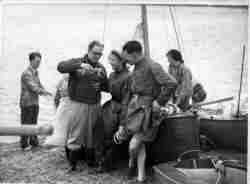 2017 is the club's 70th anniversary. When sailing started here at Thrapston Sailing Lake, or the gravel pit as it was then, the water was about one third of its present size, and sailors had to contend with the occasional barge carrying gravel from the Aldwincle end to the works at Thrapston. By 1960, a further gravel pit had been worked out between our pit and the river, greatly extending our sailing water. The two pits were separated by a bank topped by a hedge, with a channel either side to enable members to sail from one pit to the other. The club steadily grew in numbers and prestige, and we can number World and National Championships among the achievements of our members, as well as Open Meeting successes too numerous to mention.
In 1992, following years of patient negotiations, the Sailing Club Members purchased the site along with some 182 acres of water and surrounding land. This was a major and very far-sighted achievement, and provides real benefits in controlling costs, and enables us to take a much longer term view in planning. One of the immediate benefits was to be able to provide vehicular access from Thrapston directly to the club car park.

Following steady pressure from members, a major project was mounted in 1996 to remove the gravel bank separating the two gravel pits. This was (eventually) successful and means we now have about 140 acres of open, unrestricted water on which to sail.
MNCC - MIDDLE NENE CRUISING CLUB
The motor cruising club is now based at Titchmarsh Mill on the Thrapston to Oundle road. Full facilities are provided for the river cruiser, including an excellent licensed bar and refurbished club-room. Although the two clubs are now constitutionally independent, our long history as one club creates a close atmosphere between us. Visitors from each other's site are always welcome and the members from one site are automatically affiliated to the other.