MNSC provisional Sailing Calendar 2021

The government Corona website
==================================================================================
Trainee Boating Instructor
Two job opportunities for 6 month periods at the local Sea Cadet Station.
24 hours per week, Mon-Fri with occasional evenings and weekend work,
National Minimum Wage (age dependent)
The Sea Cadets are looking for a number of Trainee Boating Instructors to join them on a 6 month employment contract at regional boat stations across the UK (including Thrapston). The SC will provide you with a training programme whilst you are also gaining valuable work experience supporting the boat stations. The aim is to support young people, aged 18-24 years old, for work as an instructor within the boating industry. Successful applicants may be offered an apprenticeship or a Sessional contract with MSSC or local employers depending on performance and opportunities available at the time.
Must-haves:
Good IT Skills and knowledge of Microsoft Office packages
Grade C or above in GCSE Mathematics and English or equivalent
Good organisational and administrative skills
Desirable:
Experience and/or knowledge of uniformed and/or youth organisation
Experience of or an interest in watersports
Interest in working with young people
Deadline for applications: 15th April 2021
Interested? Contact Neil Hartwell at the Thrapston Sea Cadet Boat Station
via nhartwell@ms-sc.org as soon as possible to sort out any next steps. Do not wait until the last minute!
_________________________________________________________________________________________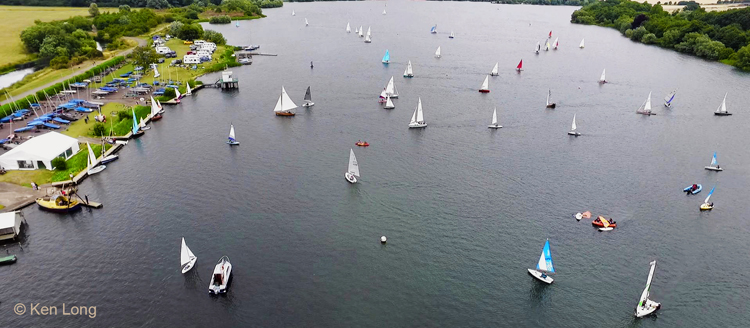 Parade of Sail at the 70th Anniversary Event in July 2017
Please note:
Pictures of various MNSC events are on the Facebook page and even more in the closed Facebook Group, and if you don't have FB, contact Wilf for a link to our Dropbox archive if you would like to see these photos and some short videos.
____________________________________________________



Find us on Facebook or Twitter
Slideshow on Facebook


This is Middle Nene Sailing Club at Thrapston Sailing Lake.
For canal/river boating please contact our friends at
Middle Nene Cruising Club
at Titchmarsh Mill.
Blue-green algae - avoid contact with the lake water
Bloom and scum forming blue-green algae can produce toxins. These are normal occurrences in nature but can be harmful to some wild animals and most domestic pets. In humans, they have been known to cause rashes after skin contact and illnesses if swallowed. Not all blue-green algae blooms and scums are toxic, but you can't tell just by looking at them, so it's best to assume they are.
People (and pets), therefore should not come into contact with lake water to protect their health.